Driving Speed Dreamon is like playing with a giant jet ski. You have plenty of excess power for most any type of maneuvering, unless of course you're wide open doing a speed run. You can easily jump the wakes of other boats on the lake and do tight turns, including skidding turns and quick stops. For the most part, you won't take on much water...but if you do it's now worry as you have dual bilge pumps and other redundant systems to keep you dry. If you so desire, a steep turn and a hand dragging in the water will absolutely soak the rear passengers!
This boat is for sale! Please contact us if you are interested,serious inquiries only. Top speed is between 60 and 65 mph depending on loading and the surface conditons of the water. The first time on the water was July 15, 2006. The boat is maintained regularly, we have detailed build and service logs.
You might likely get a huge discount at this point, due to a blown engine. The number six cylinder exhaust valve broke off and chewed up an entire piston. Most of it went out the exhaust. This boat has taken us to some great places including Lake Tahoe and now it's time to rebuild it even better than before! You'll see the blown engine photos at the end of this page. Afterall, no sense in showing the worst part first, eh? Anyone interested in funding a really awesome jetboat rebuild?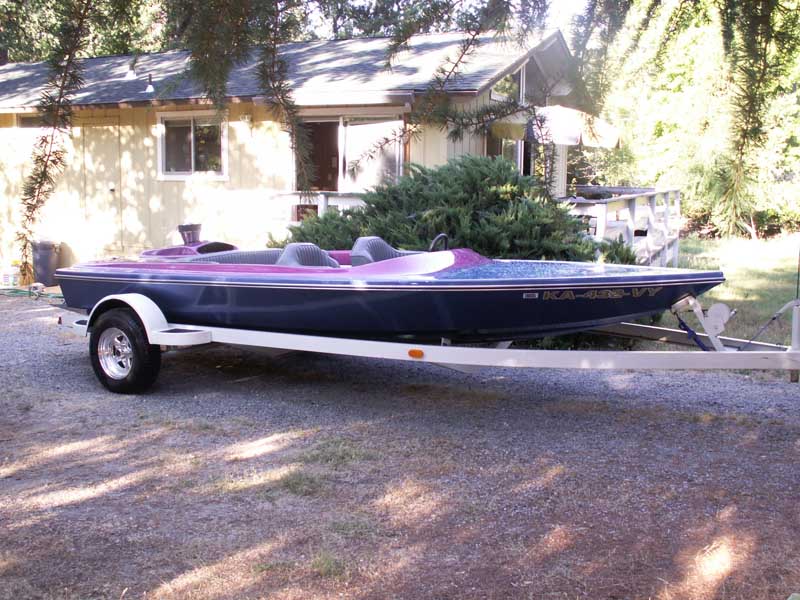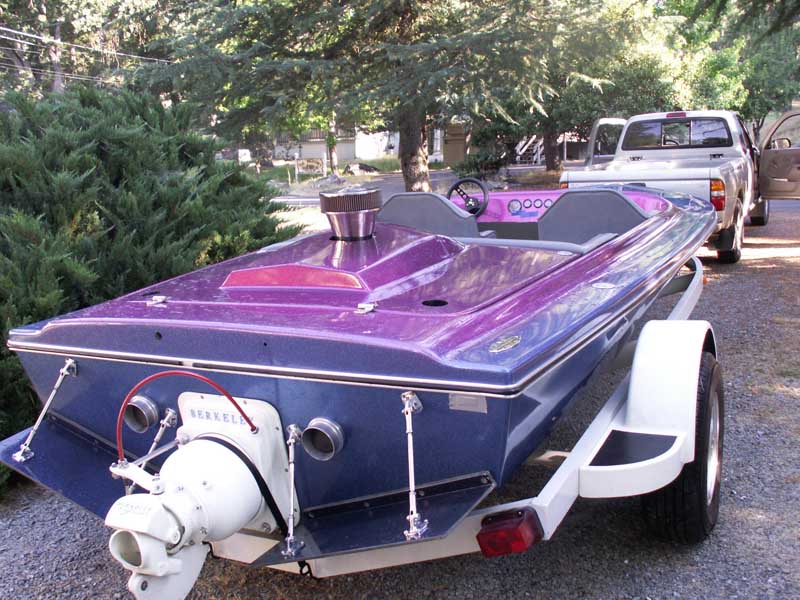 Here's what it looks like when you stand on the gas!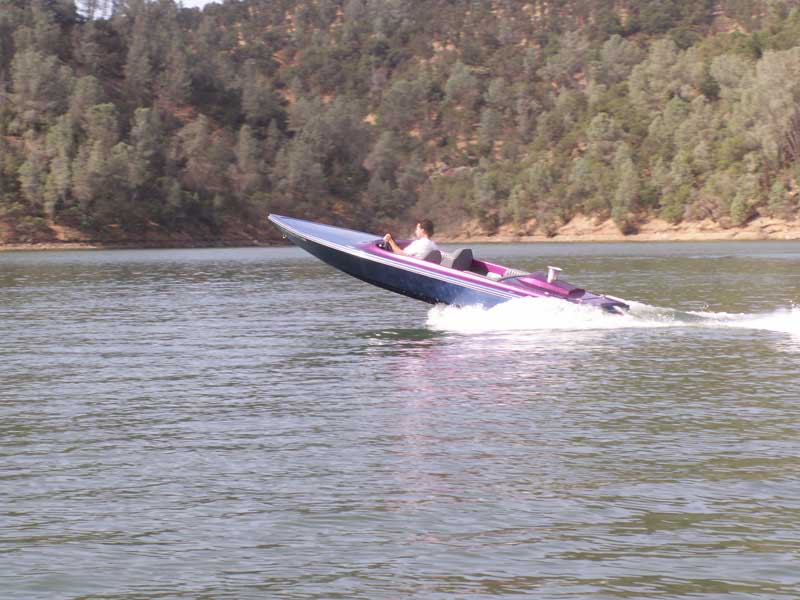 We built this boat by hand a long time ago. It is a glass fiber cloth laminated with an epoxy matrix, a.k.a. fiberglass. Many boats of this era were built with machines that spray chop glass strands and epoxy resin into the mold; we constructed this boat with woven glass cloth and wetted the layup by hand using rollers and other tools, resulting in a stronger hull than other methods. The epoxy system used is Dow Chemicals' Derakane 411, a vinyl ester resin which is catalyzed and cured using MEKP (methyl ethyl ketone peroxide). The powerplant is a big block Chevy 454 cubic inch engine, completely rebuilt from the ground up. The engine is connected to a Berkeley Jet Drive 12JG Jet Pump(a giant water pump) with a Jetovator installed. The Jetovator allows you to shoot giant "rooster tails" of water into the air. Every last detail is custom crafted to the highest of standards. We also put in a 4 degree plastic wedge to get a bit more of a rooster tail (new video coming soon...) and installed a "loader" from CP Performance that gets water more efficiently into the jet's impeller. Acceleration off the line is much improved but top end is really not affected.

Our boat is equipped with dual Optima D34M marine batteries with a combined 110 amp hour capacity. They are switched on and off with heavy duty 200 Amp sealed solenoids (relay). You can operate using the port battery 1, starboard battery 2 or both...thus eliminating any concern of battery or electrical failure on the water. We have a Pyle MRA420 1000 watt marine waterproof speaker amplifier, and we get the tunes from a SanDisk Sansa MP3 player. The Pyle amp is now out of the boat, it failed three times and sounded very poor. We upgraded and now have TWO Clarion APX280 amplifiers. They are mounted on shock absorbing rubber feet on the forward bulkhead. Two sets of Polyplanar waterproof MA9060 box speakers are more than sufficient to keep you and the entire area entertained with music. Polyplanar, for those interested, has an EXCELLENT customer service policy and comes with our highest recommendation in that department. The Clarion speaker amplifier is a world above the inferior Pyle. You would immediately notice the difference in clarity and quality were you to compare the two side by side.

Gaffrig Performance gauges are featured on the instrument panel, they are all "full sweep" with 270 degree analog needle movement for best resolution. The boat has a high quality Hobbs hour meter and oil pressure switch. We don't use a fuel gauge, but instead rely on an electronic fuel totalizer from Floscan, the Cruisemaster 5500. It has an analog needle displaying gallons per hour consumed (fuel flow rate, gph) and a digital readout of total fuel quantity consumed, accurate to 0.1 gallons. The integral fuel tanks have a built in sight gauge as well. All of the components we install in the boat are of top quality, like the flush stainless Acon pop-up cleats, the BAT Inc. flush aircraft style fuel fills and the flush Southco M1 compression latches for the hatch.

We also equipped the vessel with dual bilge blowers and a dual 1100 gph bilge pump system. Using a simple check valve setup, we have two 1100 gph bilge pumps plumbed into a single bilge outlet port, drilled flush into the hull with no external hardware showing. Each pump is automatic and will pump out all but the bottom 3/4" of water from the boat (about 2 gallons of water). Loosing either bilge pump will be a complete fail safe condition, as the other pump is still more than adequate to pump excess water off of the boat. The bilge system is sufficient enough to keep up with a missing transom plug (a 1" rubber plug about 1 foot below the waterline.

Affectionately known to us as the "Kurt Boat", this prototype hull was designed by one of the guys who built molds for well known hull designer Oscar Taylor. Five of these were built, ours is one of those 5. John Stock came to work for my family's business 25 years ago or so. While he was working here, he build up a hull out of wood and actually took the wood prototype "plug" to the lake and tried it. Satisfied with the hull design, he made the molds. At one point, John was building boats for the well known oil-field firefighter Red Adair.

The metal flake is all sprayed into the clear gelcoat. Everything is hand made and nicely finished. Particularly appealing is the fact that it doesn't have over the transom headers or a big intake sticking out the top, it's just clean and simple. To stay with that philosophy, every part we used to finish the boat is flush or nearly so. The engine is a big block chevy, taken from a Laguna S-3. We've analyzed the power output charts from Berkeley and they are in agreement with our fuel flow meter that the engine is making around 300 to 325 horsepower currently.

We have equipped this vessel with a LED lighting system for the exterior navigation lights (red, green and white all-around light) as well as mood changing interior cabin lights. Select from red, green, blue or any combination of the three colors to light up the interior as you wish. A sound reactive controller would be a nice upgrade here, to create a "dance club" atmosphere right inside the boat! The entire lighting system is waterproof. The white all-around light is stowed with quick release pins when not in use, the red and green navigation lights are virtually invisible during the daytime. We get at least one comment every night we're out on the awesome appearance of this light system. Also, you might notice that our boat if probably far more visible than most due to the fact that we haven't cut corners. Safety is a big plus and Speed Dreamon definitely meets the visibility minimums.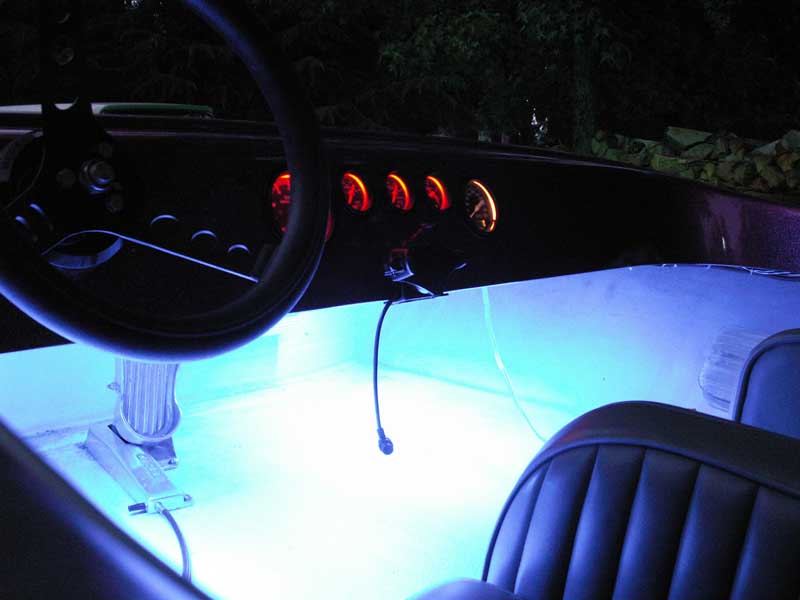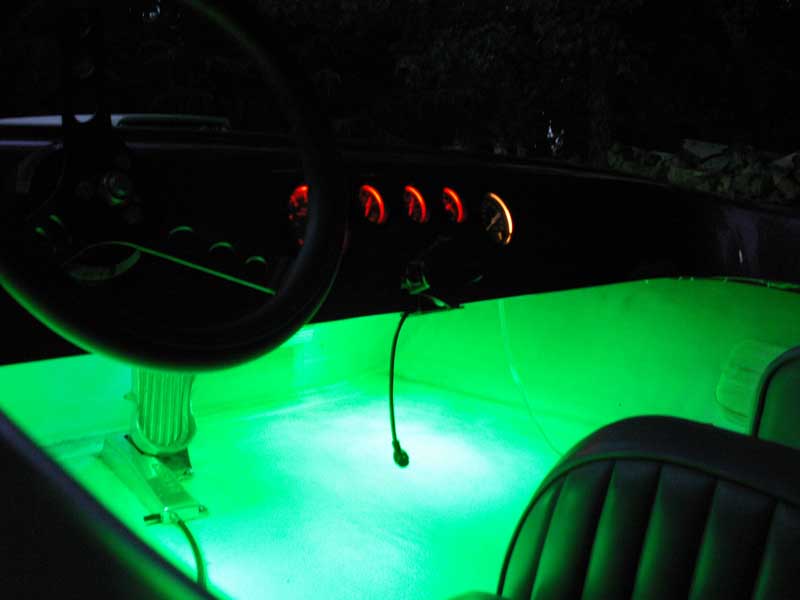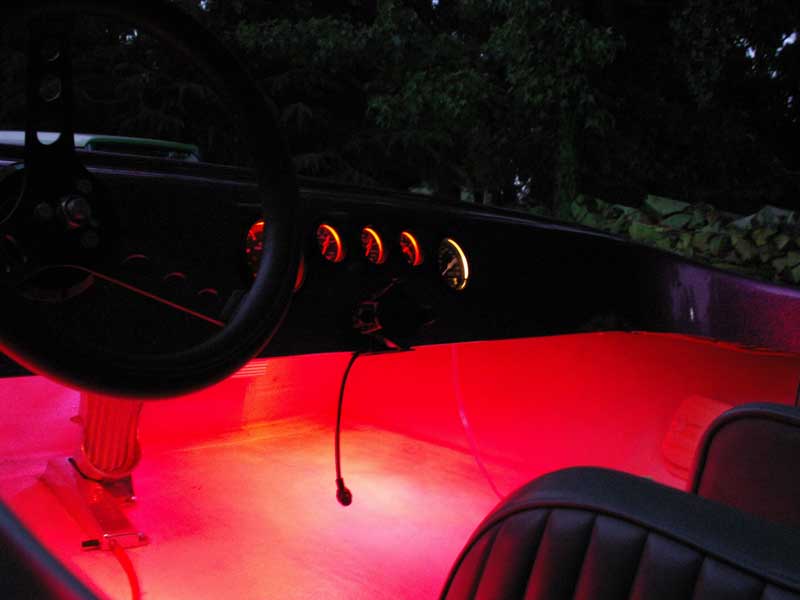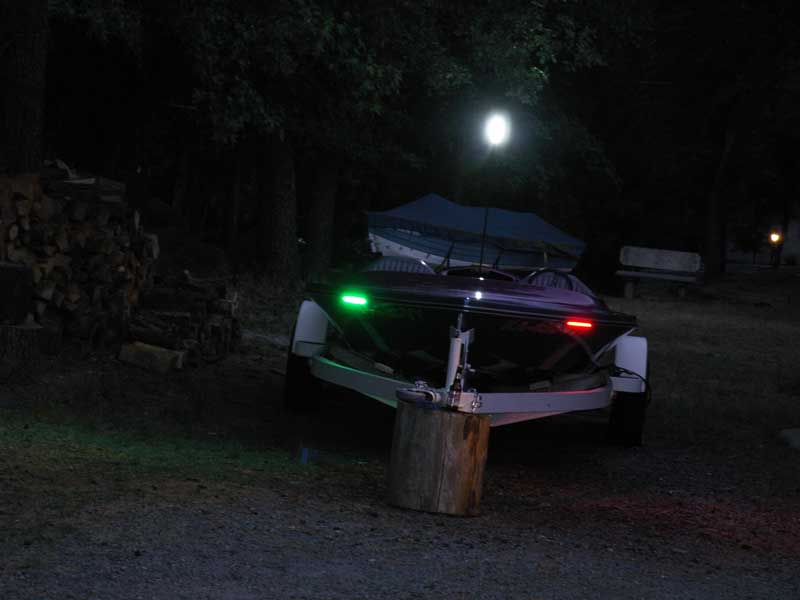 Total fuel capacity is 35 gallons, divided equally into two separate fuel tanks. Each tank has an independent shut-off valve for fail safe operation. In most cases, you can operate with both valves open. However, you may choose to shut off the port fuel tank and operate on the starboard only for example if you are on a long trip where fuel burn is questionable. Regardless of how far you get before exhausting fuel on the first tank, switching to the second tank should ideally get you back to home! At about 11 gph fuel burn rate (3000 engine RPM), your speed is about 35 mph. Increasing RPM to 5000 will triple the fuel flow and not quite double the speed...31gph and 63 mph. All told, the endurance at a respectable cruise of 35 mph is about 3 hours to exhaustion for a total of 100 miles range.

All fuel flows through a Racor (Parker Hannifin, HannAfin if you mis-spell it) fuel filtration unit which filters the fuel and also acts as a fuel-water separator, separating water from the gasoline and allowing it to settle at the bottom. It uses what they call an "aquabloc filter media".

At full throttle, the engine is burning around 31 to 32 gallons per hour (gph). The specific fuel consumption of an internal combustion engine is always around 0.5 pounds per horsepower per hour (lb/hp/hr), and the weight of unleaded gasoline is around 6.2 pounds per gallon so we can calculate the theoretical horsepower based strictly on fuel flow. Based on these numbers, our engine is developing around 390 horsepower. We are turning around 5000 to 5100 RPM at wide open throttle. Berkely long ago produced a power vs. RPM chart for their jet drive units. Our 12JG Berkeley Pump has the B impeller, according to the "Model 12J Jet Drive HP-RPM Curve" chart, we are getting about 360 horsepower into the pump. Accounting for losses due to friction, these numbers agree quite well with the calculation based on specific fuel consumption (SFC).

Here are a few more photos of the various cool aspects of the boat. If you want to see even more, go here.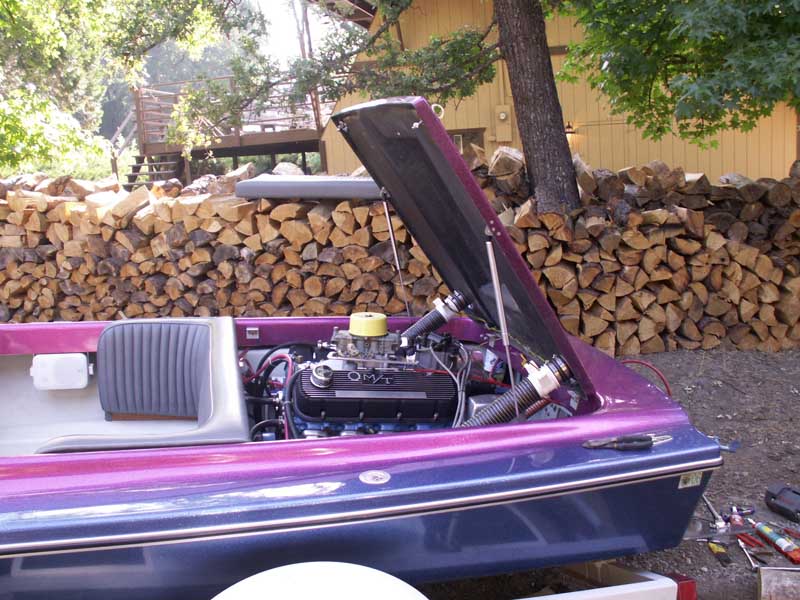 The engine hatch is self opening. Once you unlock the two flush latches and lift it about 5 inches, the rest is automatic and hydraulically dampened. The gas struts hold the hatch open while you work on the engine. Removal takes about 3 minutes because the gas struts are both quick release types, the wiring is quick disconnect and there is only one retention screw on the hinges that needs to be removed. Installation is easy as well.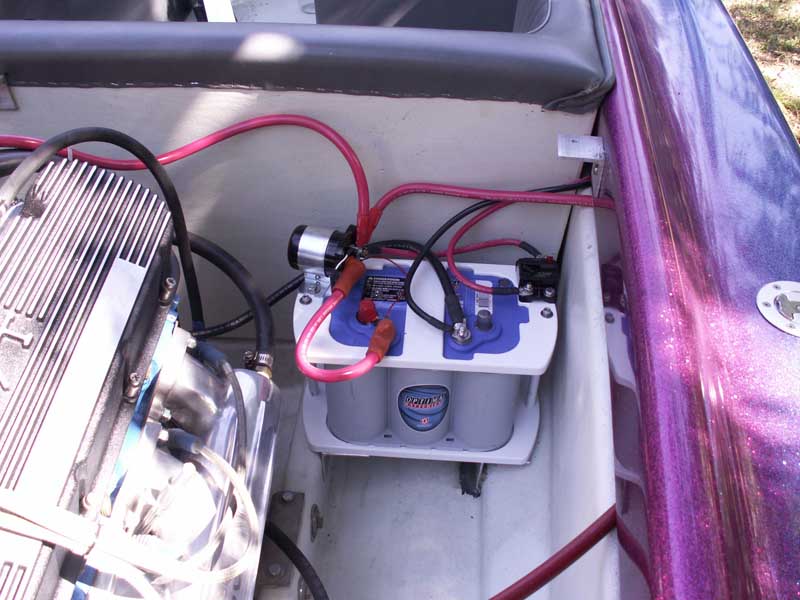 This is the starboard battery, one of two.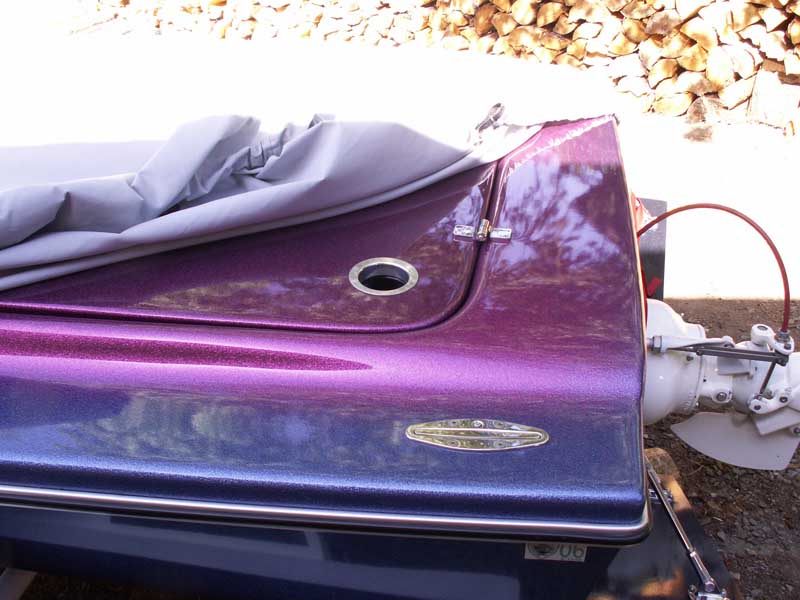 Everything is flush, including the retractable stainless steel cleats and the blower exaust. We hand polished the blower rings to a high luster and installed them flat into the exhaust ports. You can sit anywhere on the hull of the boat without any hardware protruding to cause injury.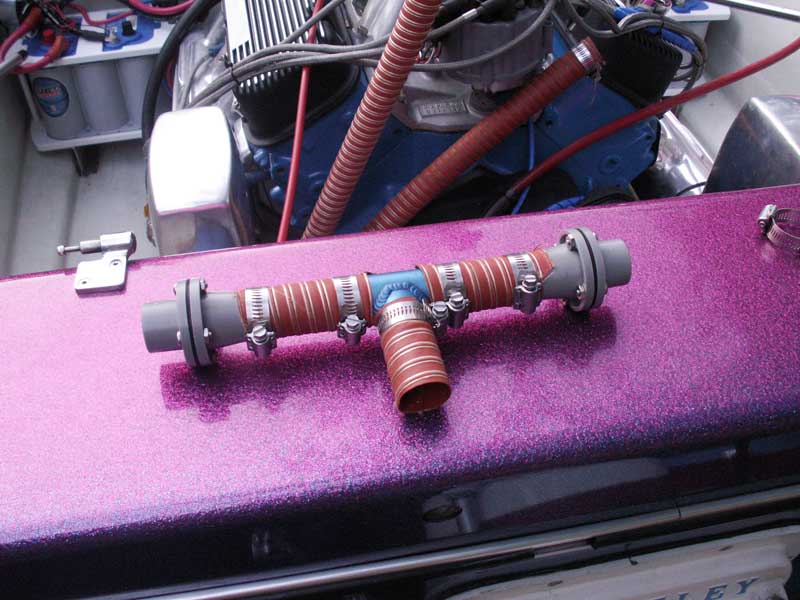 Dual 1100 gallon per hour bilge pumps (Rule 27S bilge pumps) each plumb into a Tee fitting which exits the boat through a flush opening. The opening can be seen in the photo as a 1-1/8" diameter hole through the rear transom.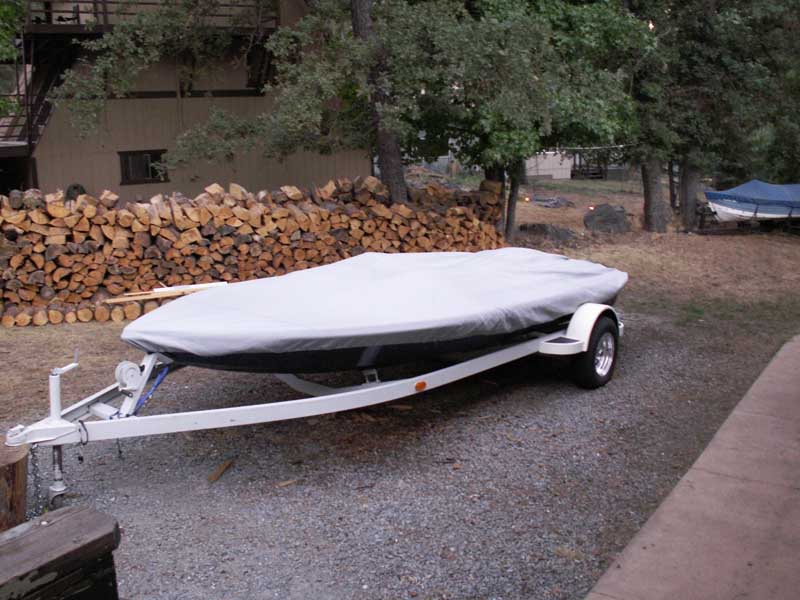 Of course we have a cover to keep out the elements and protect the boat from harmful UV.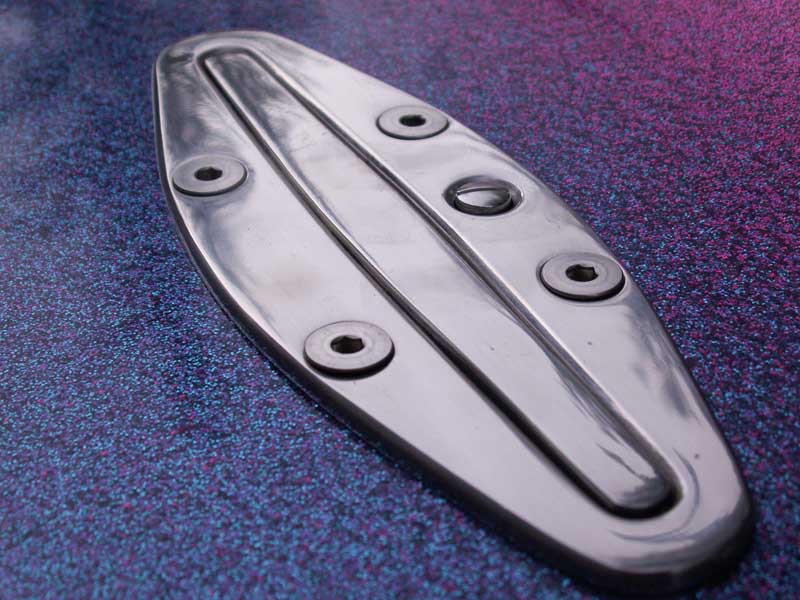 Most jet boats have no hardware which would allow you to tie up to another boat, a boat dock or otherwise moor the boat when necessary. We have four flush style stainless cleats that are retractable. When retracted, they are nearly invisible. When extended, they provide a very necessary utility purpose...for example throwing out an anchor.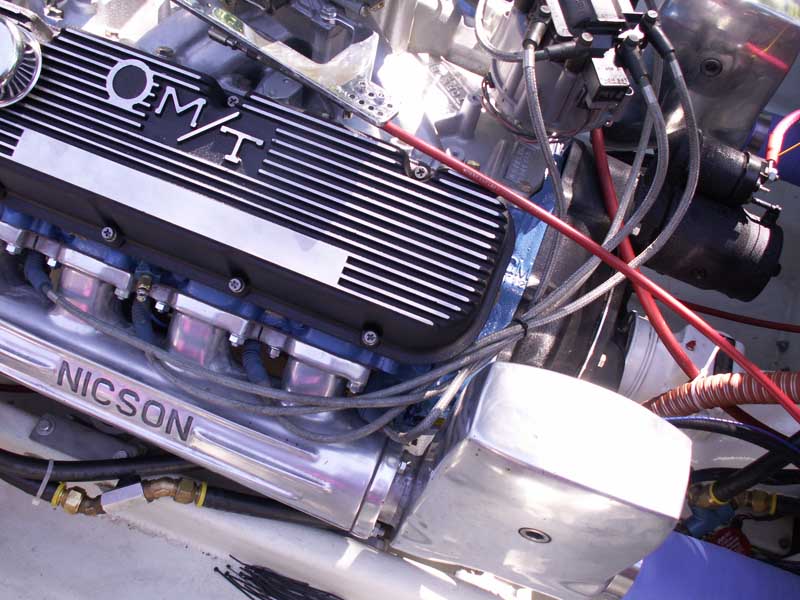 The engine installation is clean and professional, as evidenced in this photo. We clean the boat thoroughly anytime it becomes necessary.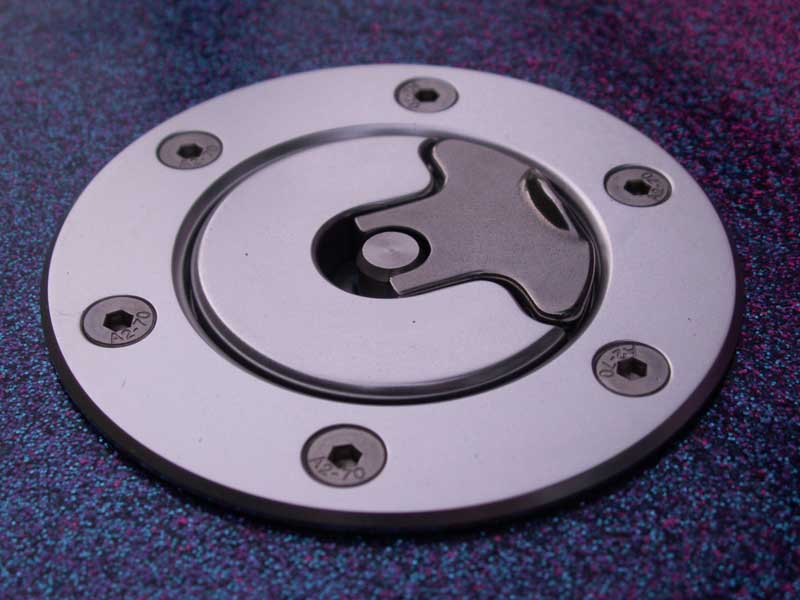 Certainly a touch not found on many other boats, the billet aircraft style fuel fillers are an absolutely awesome touch on the boat.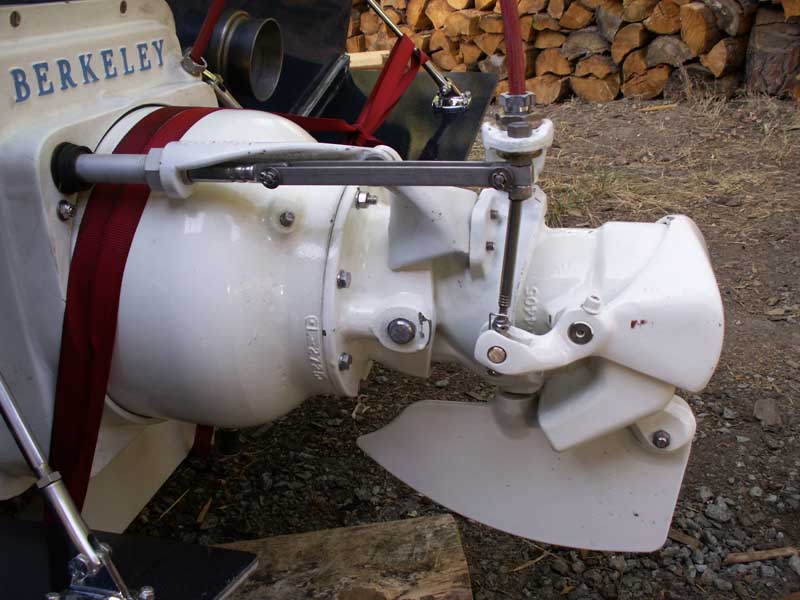 With the Jetovator and the Moorse control system, we can elevate the jet pump to spray a rooster tail. This is also very helpful to trim the attitude of the boat for better performance and/or comfort. Tilting the jet stream down (trimming the bow down and the attitude more flat) helps keep the boat from slapping on waves in rough waters. It also increases speed from about 4 mph to about 6mph when at idle! Great for the no-wake zones.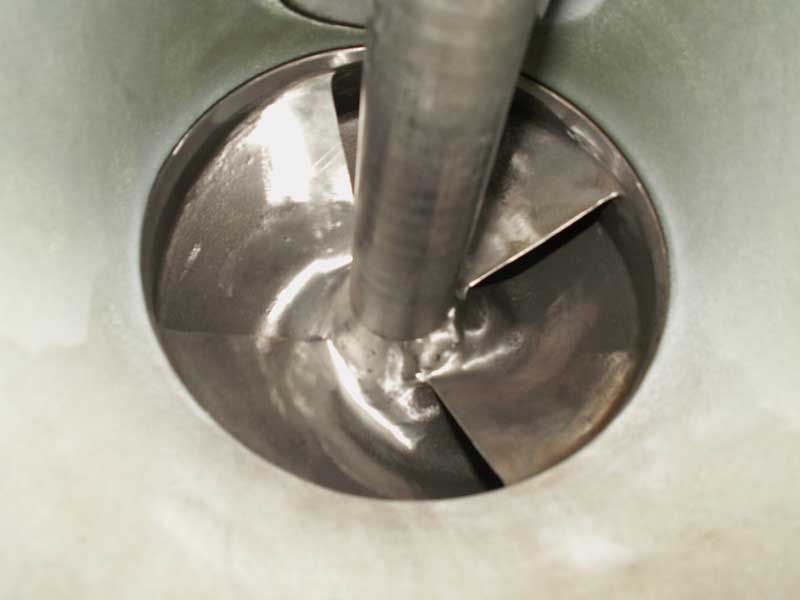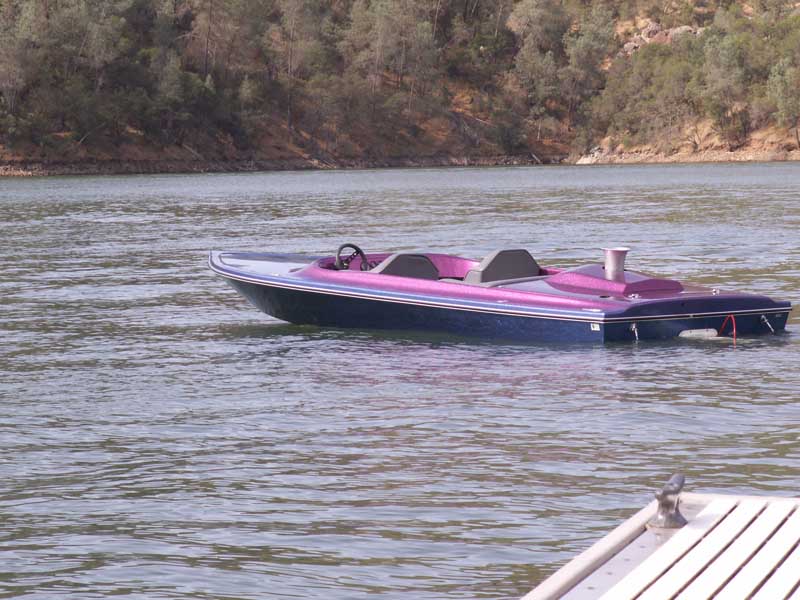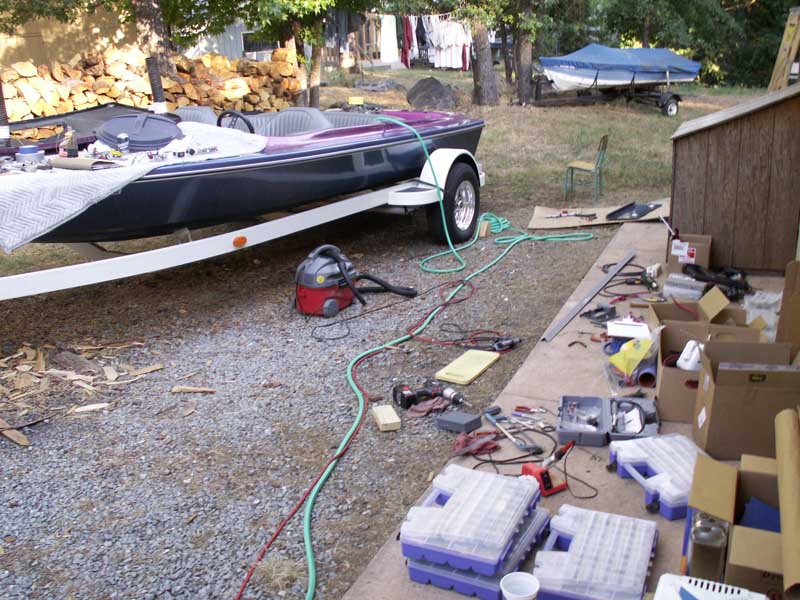 The work area at an intermediate point in the project, wow, what a mess!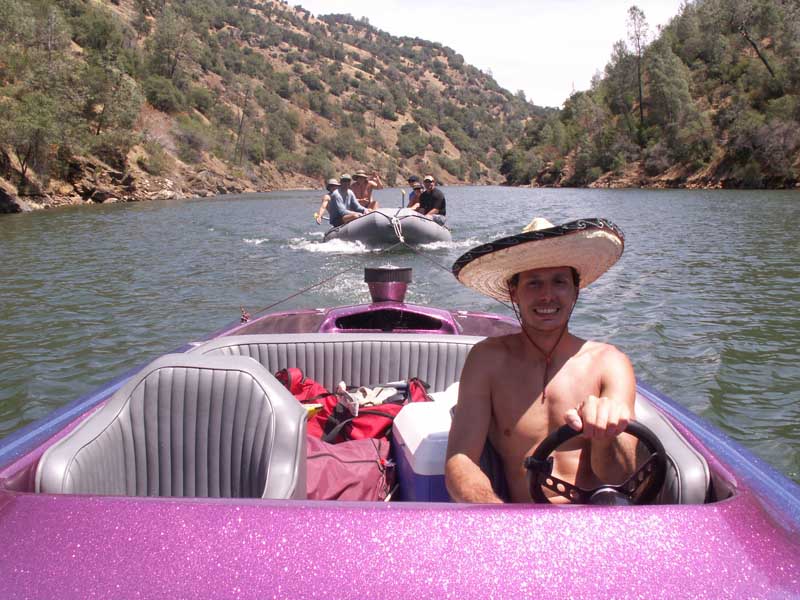 We had some fun and helped some rafters out. The biggest party we had was 5 white water inflatable rafts. Here are some of those pictures: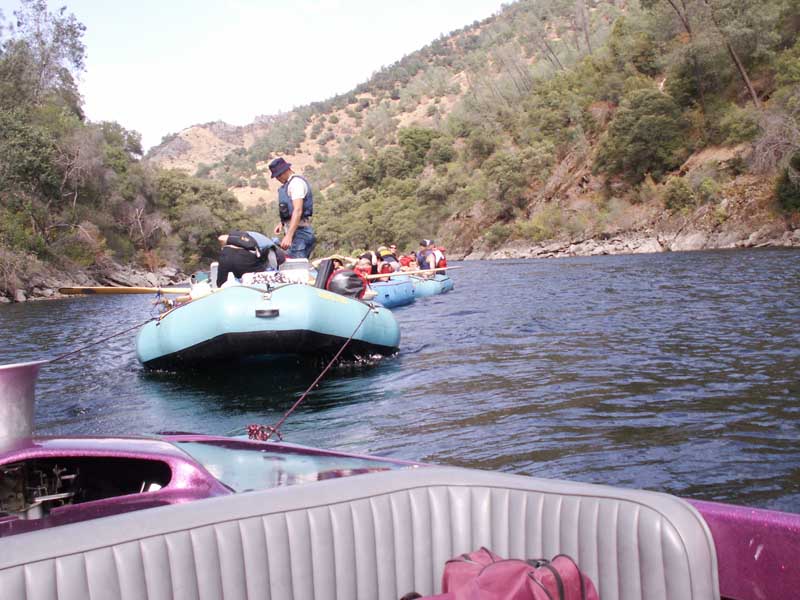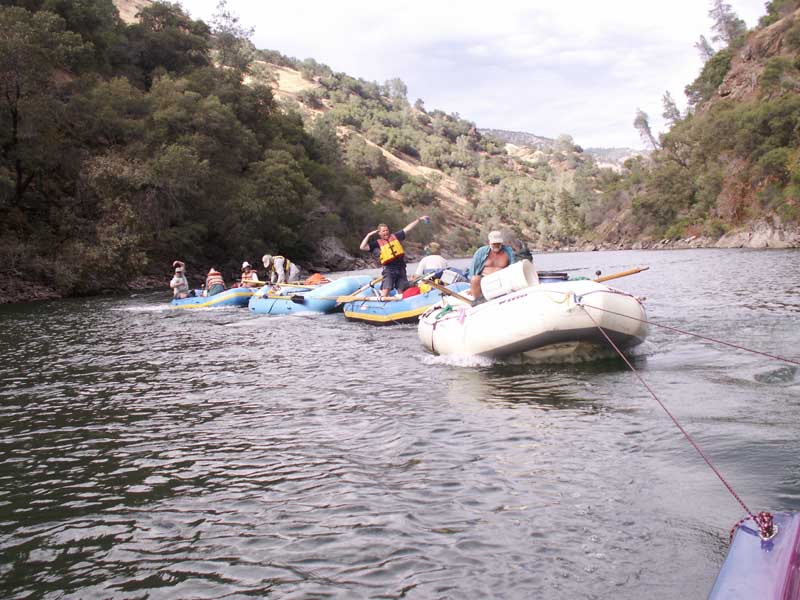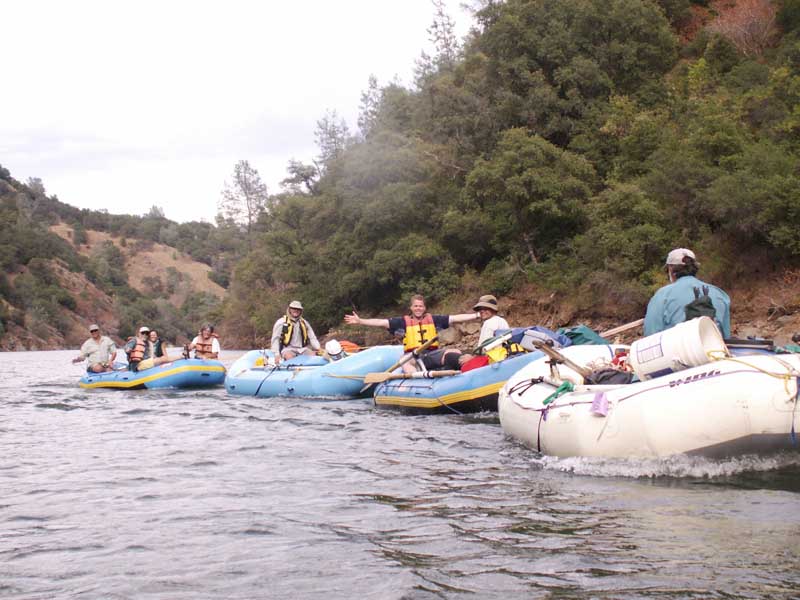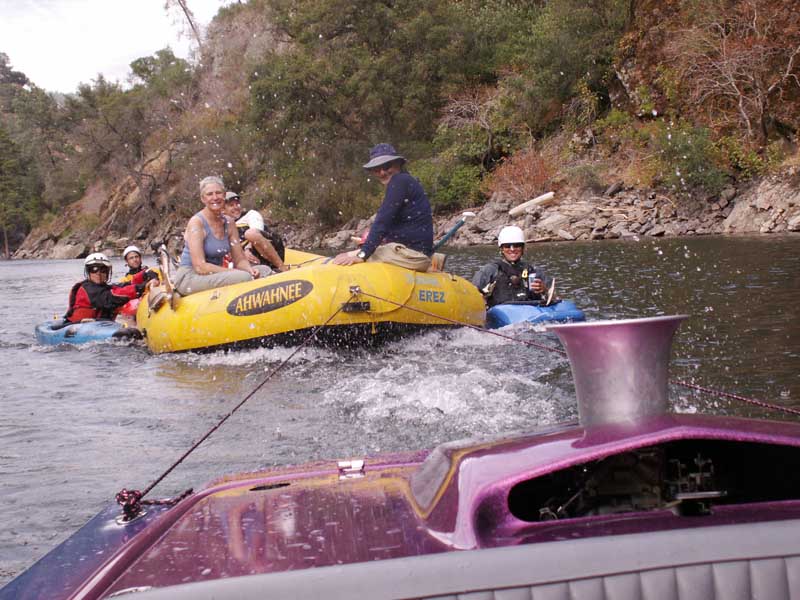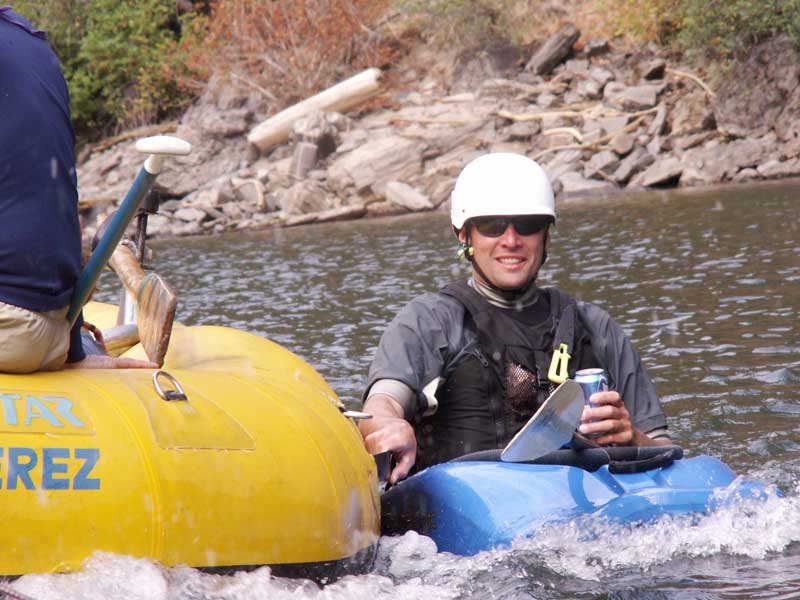 This guy above took advantage of our offer and gladly accepted a couple of cold beers for his easy ride to the pickup point. I imagine after a long day of kayaking, this would be pretty awesome!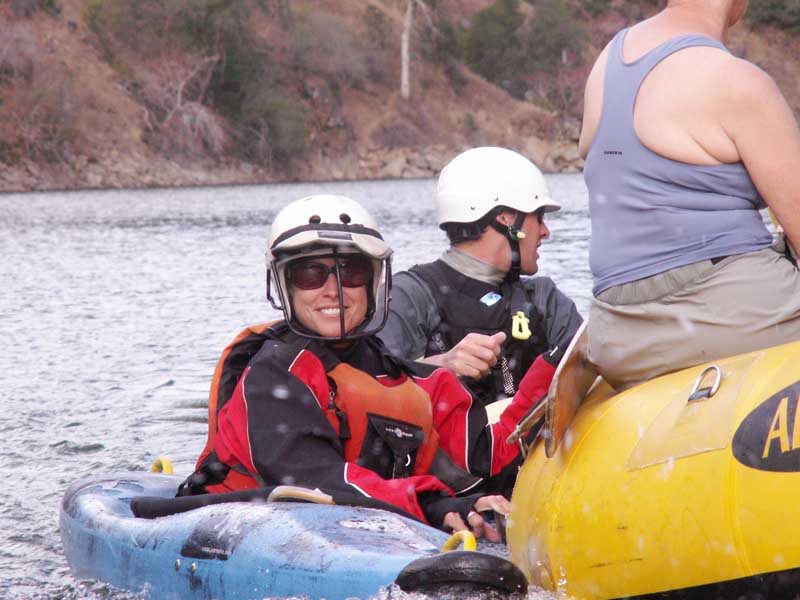 Got a ding in your Gel-Coat? See our gel-coat repair page for more information on sanding out scratches and repairing the finish on your treasured vessel.
Here are some blown engine photos: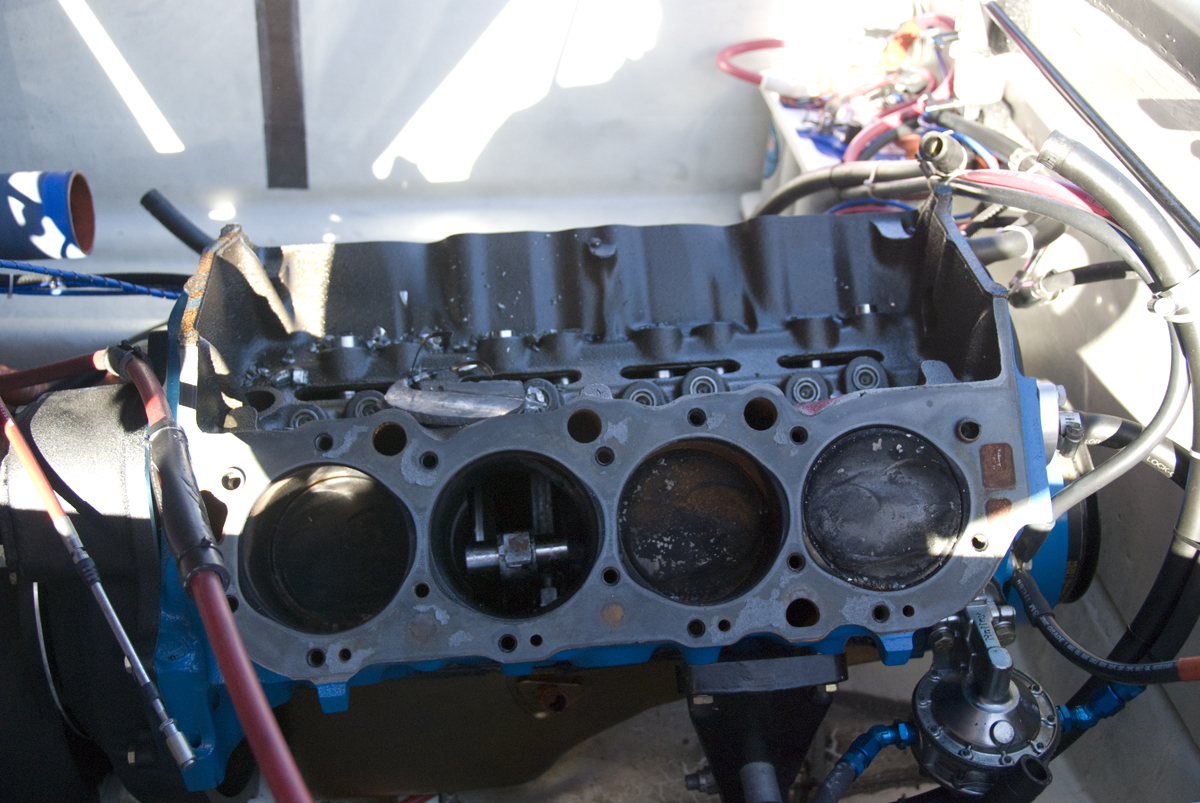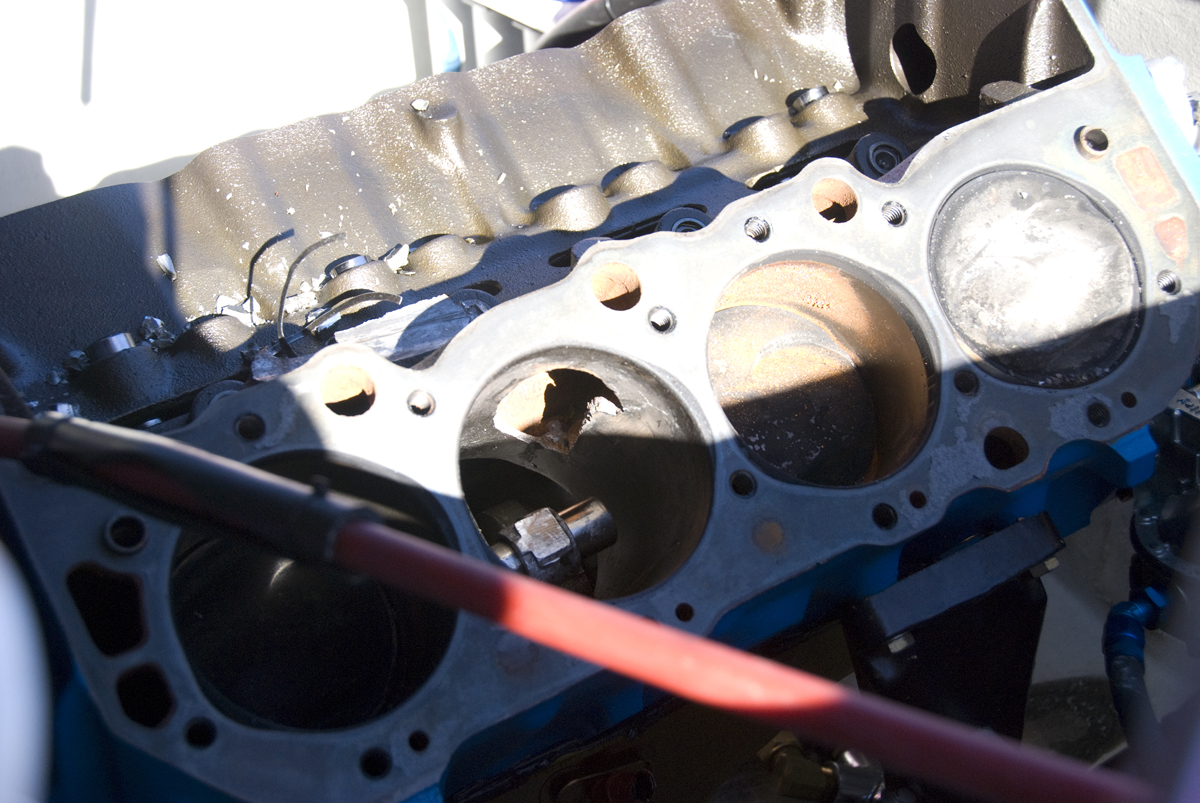 Some of the preferred vendors for this project are:
CP Performance
Rex Marine
Mouser
McMaster
Aircraft Spruce
Crane Cams
1st Optima Batteries
Bosworth Company
Dana Marine
Gaffrig
Floscan
Southco
West Marine
K&N


(old) Project status: the steering is hooked up and propulsion controls are hooked up, except for the jetovator. i ordered a water pressure regulator from rexmar, they have a nice one made just for this purpose for $75. they also had a very rare part which i couldn't find elsewhere, the morse 43B to 43BC bulkhead adapter for the shifter cable mount. berkeley doesn't sell them anymore and said i'd have to buy a new cable with the bulkhead style mount. i'm still searching for a cover, i contacted attwood and taylor made, but neither place could suggest a cover that would fit based on pictures and dimensions. i guess i might settle for one that doesn't fit as well.

-6 hose
20' 303-6
1 05-01920 aeroquip -6 mandrel
10 491-6 aeroquip straight fitting 8.46
-3 hose
3' 303-3
1 05-01918 aeroquip -3 mandrel
2 491-3 aeroquip straight fitting 8.18
fittings for oil sytem
1 04-00102 manifold fitting
0 AN917-1D 1/8 pipe tee
1 AN816-3D 1/8 pipe to -3 flare
1 AN822-3D 1/8 pipe to -3 flare 90 deg
1 AN823-3D 1/8 pipe to -3 flare 45 deg
reducers
1 AN912-1D 1/4 pipe to 1/8 pipe 1.56
2 AN912-2D 3/8 pipe to 1/4 pipe
1 AN912-3D 3/8 pipe to 1/8 pipe 1.80
1 AN912-6D 1/2 pipe to 1/8 pipe 2.95
fuel tank vent fittings (couplers)
2 AN910-2D 1/4 pipe coupler
2 AN842-6D 1/4 pipe to 3/8 hose 90 deg 7.40
fittings for fuel delivery system
10 AN816-6D 1/4 pipe to -6 flare 1.64
6 AN823-6D 1/4 pipe to -6 flare 45 deg 4.70
6 AN822-6D 1/4 pipe to -6 flare 90 deg 3.90
misc
18 K1000-4 1/4-28 anchor nut
50 CCC-33 rivet, 3/32 diam, 3/16 grip (price?)
1 01-21600 cutter for dremel
4 09-21500 1/2 wide acid brush 0.35
4 09-21400 3/8 wide acid brush 0.29