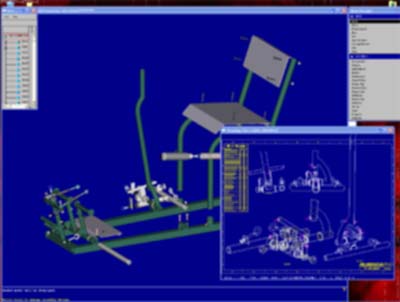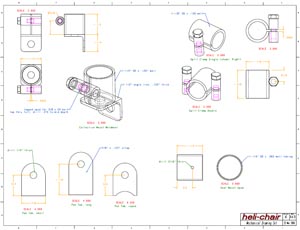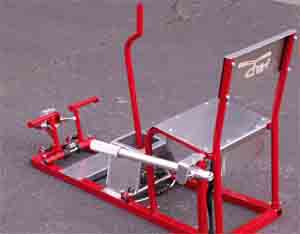 We welcome you to inquire about our plans. You can purchase via. Google Checkout for $64 below (PDFs with DVD Video). These are professionally drafted utilizing a high end computer aided design system to ensure accuracy. Everything right down to the last tiny little set screw is modeled in 3D, creating a stunning array of drawings. Everyone who purchases plans will be granted access to a private discussion board for exchanging ideas and getting answers to your questions. If you are a plans customer who has not yet found the discussion forum or you need help logging on, please contact us and we will help you out immediately! Despite not actively updating much of our website, Heli-Chair is still selling plans and supporting plans-builders to the extent possible (As of November 2010).
Includes: color photos, wiring schematics, detailed notes and descriptions of parts, transmitter modification video, even photos illustrating how and where to mask parts prior to painting.
Building a Heli-Chair would be a GREAT project for anyone with a desire to learn. If you are a student or a teacher looking for a new project to keep the students engaged in learning, let us know and we can help you out! The Heli-Chair will require skills in: sheet metal fabrication, welding (steel and aluminum), basic machining and lathe work, coping of tubing, electrical systems design, connectorization, soldering, crimping and bundling of wires. You'll enjoy numerous educational advantages, having learned about many different technologies all on one project. To top it all off, your Heli-Chair will be useful as an instructional tool for countless other people. It may even be a research bed for a whole new project, such as a remotely piloted vehicle.
The average builder will likely spend less than a month of part-time labor building the Heli-Chair. There are many variables which make it nearly impossible to quote an exact build time or cost. You will need to be able to do some welding and basic machine work as well as some electrical wiring. You do NOT need knowledge of microelectronics. Typical costs are about $750 for the helicopter, radio transmitter and field gear, and about $750 more for the materials and components to build the Heli-Chair itself.
The electric helicopters available on the market today are satisfactory for the Heli-Chair setup, however it will be important that you find one with collective pitch and NOT fixed pitch. A fixed pitch electric helicopter will limit your learning as there will be no throttle control and you will not learn to govern rotor speed.
**To use Google Checkout or PayPal, select your purchase choice in the dropdown menu at the top of the table below. Please MONITOR YOUR GOOGLE ACCOUNT EMAIL for a request for confirmation from our Heli-Chair.com email account. We send an email to every customer asking them to verify the purchase. Your PDFs will then be uploaded, usually within 1 or 2 days. If you want to pay by check or money order, contact us. Please take note, if you have ordered the plans, you will receive an email from us usually within two days with instructions to download. This often will go to the email used for your Google Checkout or PayPal account. If you have not received the email, visit our contact page.

$30.00

Mechanical drawings ONLY, PDF Download

Fully dimensioned CAD-generated drawings with perspective and orthogonal views, basic bill of materials and annotations. With this package and a little imagination, you'll be having fun and flying in no time! All drawings are delivered electronically in PDF format. You will need to have us do the radio modification and purchase the "Basic electrical schematics" package also...unless you are a whiz with electronics!

$30.00

Electrical schematics ONLY, PDF Download

Schematics and worksheets required for wiring the electrical interface, including modification of a Futaba 7C radio to accept analog signal inputs. We can also suggest this package for those wishing to create their own mechanical radio transmitter interface for a wide variety of other applications beyond just piloting, including: robotics, musical instruments, telepresence, camera gimbals, etc.

$64.00

Combined Mechanical and Electrical PDFs w/ DVD, Get all the necessary drawings, parts listing, vendor part numbers, and any other information you may need in order to build your own flight simulation device. A basic training video and assembly video is included that shows you the same fundamentals that our customers who purchase an assembled Heli-Chair will see. Learn how to use the controls of the helicopter, see some of the details up close and generally get a head start. The video also includes the Futaba 7C radio modification [technique applies to ANY modern gimbal stick radio]. Standard postal delivery is included with the price. *Watch the Futaba Modification DVD Preview