May 4,5,6th 2007 - The second annual Central Sierra Helicopter meet was great fun, despite a bit of rain on Friday and some pretty windy conditions Saturday, everyone really had a great time. Those that were there on Sunday enjoyed a beautiful California day! Wayne Handly flew over on Saturday and put on a quick "show" with his Extra 300. Quite a few folks flew the Heli-Chair. A good crowd was on hand for each of our 1 hour wiring for helicopters seminar. There are many pictures in the CSHM picture folder here. There is a video here as well, which has footage of Hap's Helicycle test flight and more fun stuff. Here are a few pictures from this year's gathering: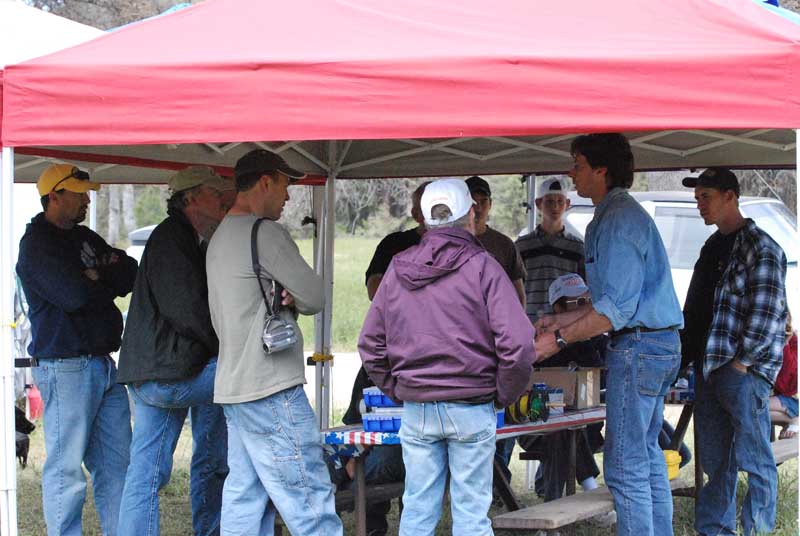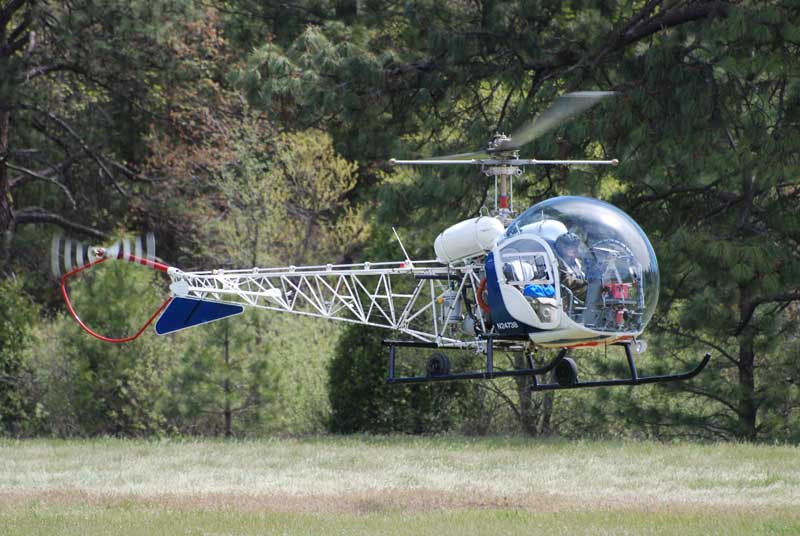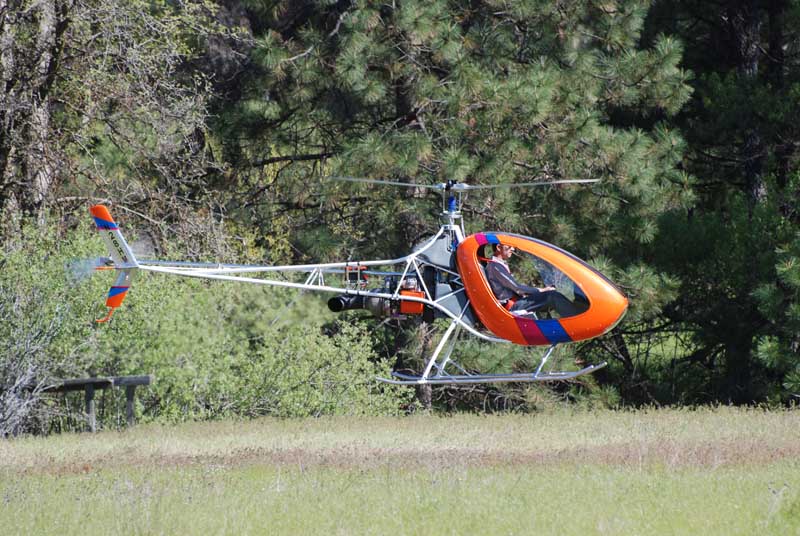 May 6, 2006 - We recently attended the Central Sierra Helicopter Meet near Groveland, California (just a few miles away from Pine Mountain Lake Airport, ICAO identifier E45, and less than 30 minutes drive to Yosemite National Park!) This was a first time gathering that is sure to repeat in the years to come. Focused mainly on experimental helicopters, the CSHM get together is great fun. We only made it on Saturday and didn't have a chance to stay for the tri-tip beef cookout. We had many pilots and students try out the Heli-Chair with much success, despite the windy conditions. Sadly, we made a big mistake on our last flight of the day. Our instructor-pilot was getting fatigued and decided just "one more" student would be all...
The accident is caught on video, you can see it in the video vault along with aerial footage of the event taken from our Bergen Intrepid Gasser camera platform. The cause of this crash is that we failed to properly setup and test the transfer of controls before flight. When the student needed the instructor to take over, it didn't happen because the switches weren't setup beforehand. It was a sad ending, but really a minor mishap. Just about $60 worth of parts and a couple hours and this learning experience was put to rest.
The nice folks from Experimental Helo magazine were there, Stu and Kathy fields. Though we didn't attend personally, Stu put on a dynamic rotor balancing demonstration. They also brought along their Baby Belle (a.k.a. the Safari).
Here are some screen shots from the videos you can download. Click here to go to the download directory. Once you go there, right-click and select "save-as" to download the file.
Scroll down to see more pictures! If you want to get the originals and see plenty of other images from the event in full resolution, browse the image vault here. There was a great turnout of Helicycle builders and even one that flew. Once you hear that turbine spool up, you're hooked. Several Ultrasport 254 helicopters were on hand as well. One fellow loaded his up in the "back" of his pickup when it was all over! He had a very ingenious setup where the skids straddled the pickup bed.